No matter what your event is, you want your badge to make a lasting impression — in a good way! Gone are the days when a plain white badge with a photo and sparse information will do; today, badges are as much a part of your branding and messaging as your signage and brochures.
Putting a little extra thought into elevating the look of your badges can pay off by providing you with continued advertising or branding, since it's not uncommon for people to save an event badge as a keepsake. And, when it looks great, it's more likely to draw attention, spark conversation and help keep your event top of mind.
You should start thinking about your badge design early in the planning process to make sure it will fit with the overall look and feel of your event. For example, if you have a Hawaiian getaway theme, why would you want to have a plain badge with attendees' information? Think of how you could incorporate the Hawaiian theme into your badge design, such as using leis instead of traditional lanyards.
It isn't just event badges that can benefit from a more creative approach; creating company ID badges with a little extra flair (while staying within your company's brand guidelines, of course) can make wearing them more fun while at the same time promoting company unity.
If you're ready to dress up your ID or event badges, here are eight ways to get started:
1. Bring Out the Bling
Who says an event badge has to be dull and boring? Not us! Offer attendees the opportunity to add a little sparkle to their badges by providing a jeweled charm that can be attached to the lanyard clip or run through the badge's beaded neck chain. If your event has been going on for a few years, you could even add one jewel for each year the individual has attended — which makes it an immediate conversation-starter for attendees. It's a great way to add flair to your event every day!
2. Embrace Art
You already know that badge design is important to your messaging, but have you thought about also using one side as a colorful, wearable piece of art? Rather than leave one side blank, use it for placement of a designed quote (preferably something relevant to your event!) or simply an eye-catching colorful pattern.
3. Get Crafty
Even if you're not hosting a conference or event for do-it-yourselfers, this is a great way to get attendees immediately engaged and let them start meeting new people — which is often the point of these events! Providing a table with ribbons, stickers, beads and other craft items near the registration table and encouraging your attendees to personalize their badges adds an element of fun right off the bat. And, just like craft time at summer camp, it's a relaxed, enjoyable way for people to meet, learn more about each other and strike up a friendship.
4. Make It Interactive
Even if your badge isn't high-tech, with features like embedded chips and sensors, you can still make it interactive! Since most people are attending conferences to network, why not help them out? When creating your badge, include the words, "Ask me about …" in the lower part of the design, followed by a blank line or empty box. Then leave Sharpie pens at the registration table and let each attendee fill in the blank. It's an instant conversation starter and an effective way for attendees to let each other know why they're at the event.
5. Coordinate Your Colors
Have you ever been to a conference or event where you receive a beautiful badge, but it's dangling from a plain black lanyard? Or you get a nicely designed lanyard with a generic white badge? There's nothing exciting or memorable about either of those.
Make a better impression by coordinating the colors of your ID or event badge with the color of your lanyard. This creates a clean, streamlined look that contributes stylish appeal and makes great use of your company brand colors or colors selected for the event's theme.
6. Go Basic Black
For a more sophisticated event, where colored badges might detract from attendees' attire, consider going to the dark side. A black badge with gold lettering and a black lanyard can provide an elegant, understated appeal that contributes to the more formal feeling of your event rather than detracting from it.
7. Play With Your Lanyard
You have a lot of options when it comes to lanyards; you can choose a custom lanyard with your logo, a variety of colorful lanyards, a beaded chain and more. But, as mentioned earlier with the Hawaiian lei, why not think outside the box? Using materials like ribbon, beads, silk cords or other items can give your badges a unique, distinctive look.
8. Add Technology
Embedding QR codes that "unlock" a special video or welcome message is another feature you can add to your badge that will give extra mileage to your event and your messaging. These codes are simple to add to your design and can provide a unique high-tech dimension.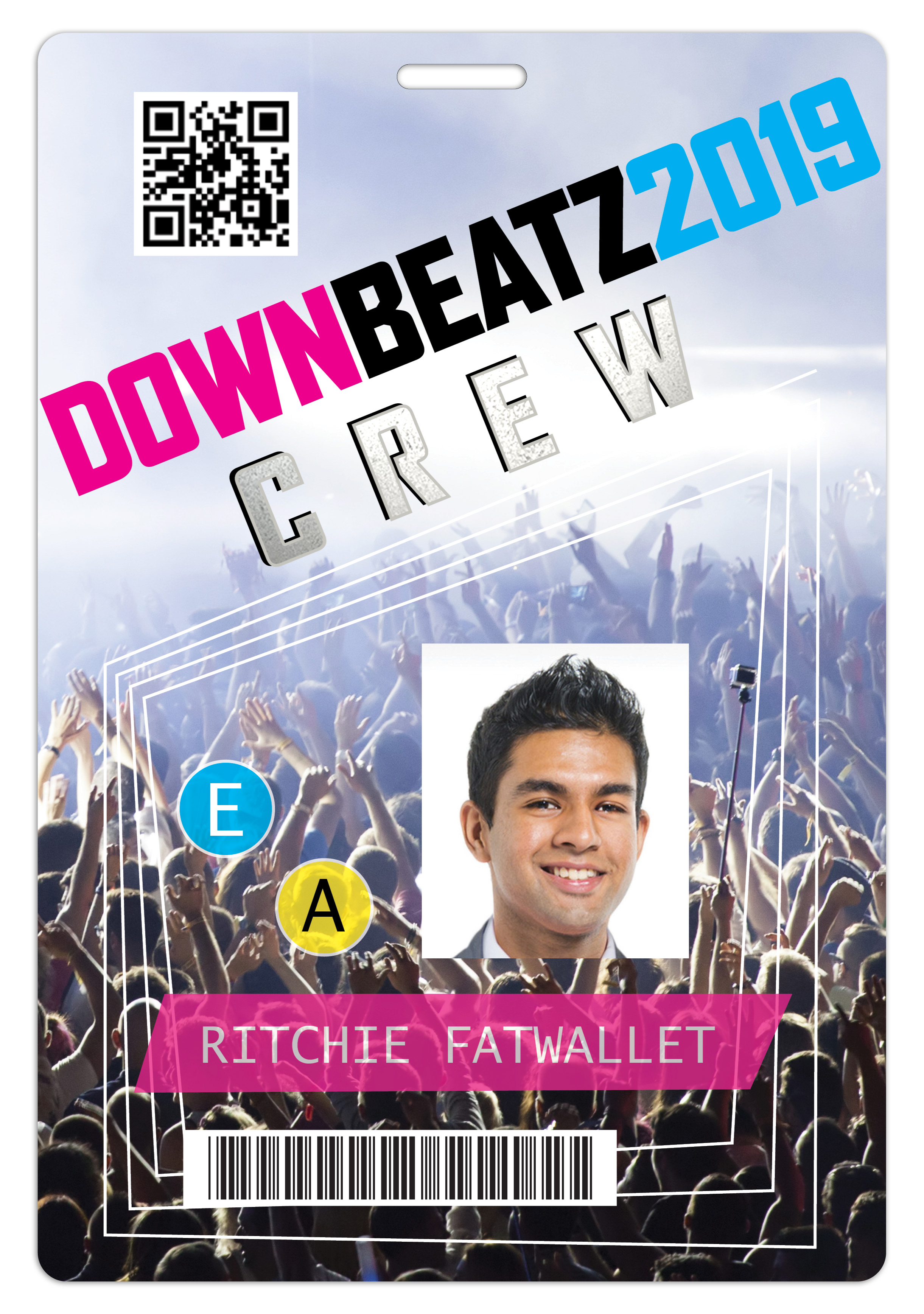 This badge includes foil stamping, a QR code in the top left, linear barcode in the bottom center, full-bleed graphics all around, transparent variable text (name) and variable icons for different access areas.
Make Each Event Stand Out With Custom Badges
Your event is unique, and you want it to be memorable; one way to ensure that is to create badges that have their own distinctive appeal. Providing attendees with a badge that is creatively designed is an extra touch that will help them remember your event long after it has ended.
As you think about how to dress up your badge design in unique ways, keep in mind how it will be worn or displayed (lanyard, clips, pin, etc.) so you make sure that your idea will work with the finished product.