Zebra ZC Series Card Printers and Ribbons
Zebra ZC100, ZC300 and ZC350 ID Card Printer and Ink Ribbon Products
Zebra's new ZC series printers and ink ribbons offer innovative small-footprint designs with the power and functionality to power any size card printing operation every day. Choose from the value-priced ZC100 or the feature-packed ZC300 and ZC350 printers. All three models include a no-questions-asked warranty on parts and labor as well as extremely intuitive color displays. The new display helps the user understand the print process, printer status, supply levels and also assists in troubleshooting any possible errors. Watch the short video below for details on the ZC series printers from Zebra.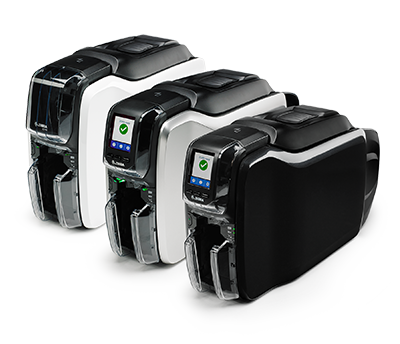 Zebra ZC series printers feature matched ink ribbons for various printing tasks. Choose from full-color printing supplies or monochrome and metallic ink ribbons for printing on non-white or preprinted cards. Supplies are tagged to allow easy installation and calibration within the printer, and bidirectional communications with your PC will always track supply levels as you work through your print jobs. Easy installation instructions are provided on the packaging as well as in the included guides and interactive videos.
ZC100 is the value-leader in the ZC line, with the lowest price and a far from limited feature set. ZC100 is available with a number of configurations. The ZC100 printer is available in single-sided configuration only.
ZC300 and ZC350 bring the following upgrades to the ZC line:
dual-sided printing options
convenient LCD screens to inform and instruct the user on printer processes
option to print via ethernet
increased print speed over the ZC100 printer unit.
optional smart card encoding (ZC350 only)