Whole Foods Market Increases Efficiency by Moving Card Production to Online Service Bureau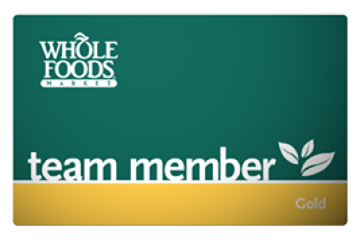 "ID Shop has saved us the headache of managing the hardware and software component of printing employee cards.
We figuratively went from driving ourselves to the airport to renting a limo."
– Tom Weber
Payroll and Benefits Specialist
Whole Foods Market
The Challenge
Whole Foods Market team members enjoy many unique benefits including a special discount card that saves them up to 30% on all merchandise in any Whole Foods store. Printing these secure photo ID cards for employees in Northern California proved challenging for the region of over 30 stores. Each location was responsible for entering individual employee information into a feed that uploaded data to a single desktop card printer at the store's regional office. Once a week, the regional office printed all of the new cards and mailed them back to the individual store managers.
Turnaround was slow and constant issues with the printer breaking down, running out of supplies, and jamming often caused delays in employees receiving their cards and utilizing their benefits.
The Solution
With ID Shop's hosted web-based solution, Whole Foods Market can now upload information whenever it is convenient. Data is uploaded and printed cards are mailed to individual stores within 10 days. In the meantime, stores have the ability to easily and cost-effectively print temporary badges on demand so that team members can access their benefits within 24 hours of being hired.
All data in the COL-E system is securely hosted on a private server and no local software is required. The company can manage a single identification database rather than multiple databases, improving access for remote users while streamlining the ID card management and production process and ultimately reducing costs.
The Result
The ID service bureau solution for Whole Foods Market, currently in the Northeast as well as in the Northern California region, allows new hires and team members who have lost their cards to get something in their hand right away that enables them to use their discount, a key employee benefit.
Duplication of data entry has been reduced and information is uploaded in real-time so that employees can use their temporary card immediately at their home store, as well as at other locations. As soon as a team member has an ID number, they can have something to scan right away to begin receiving their discount.
Outsourcing Team Member card printing and distribution to ID Shop has saved the customer valuable time, while adding a high degree of accuracy to the process.
For information about these and other products, contact ID Shop, Inc. at (844) 443-7467 or visit idshop.com