ID Shop is Florence Chapel Middle School's One Stop Shop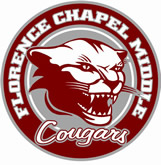 "ID Shop is our one stop shop. They always have what we need in stock and their service and delivery is exceptional. They have always exceeded our expectations."
– Cherise Crosby
Bookkeeper
Florence Chapel Middle School
The Challenge
Since it opened its doors in 2004, Florence Chapel Middle School has been a loyal ID Shop customer. Every year, the school creates and prints photo IDs for all of its 600-plus students in the seventh and eight grades in addition to IDs for faculty and staff. Students use their ID cards for lunch in the cafeteria, as well as checking out books in the library.
"Students get their cards at the beginning of the year on registration day," said Cherise Crosby, Florence Chapel Middle School's bookkeeper. "We take their pictures and print all 600 badges in one day – it takes a village."
The Solution
In 2015, the school was ready to upgrade its original ID system to a new system from ID Shop.
"ID Shop helped us navigate the new machine and supported us while we got up and running," Crosby said. "They are always very easy to get in touch with when we need them."
Today, in addition to its ID system and accessories, Florence Chapel Middle School buys all of its printing and lamination supplies from ID Shop.
"ID Shop is our one stop shop," said Crosby. "They always have what we need in stock and their service and delivery is exceptional. They have always exceeded our expectations."
The Results
Florence Chapel Middle School also orders solid lanyards in various colors from ID Shop, which it uses to identify different teacher teams. The school is looking into also purchasing customized lanyards from ID Shop in the near future.
"I would absolutely recommend them," Crosby said. "We can get everything we need in one place."
For information about these and other products, contact ID Shop, Inc. at (844) 443-7467 or visit idshop.com