Planning your next big event? To stand out on a crowded calendar, you'll need to get creative. Luckily for you, the next big thing in event planning not only creates an unforgettable experience for attendees but will save you money and increase your bottom line. Introducing this season's hottest accessory: the RFID wristband.
RFID: Vintage Tech That's Making a Comeback
Radio-frequency identification (RFID) technology is a chip that's embedded in credit cards, ID badges and other accessories. This chip contains unique information that can be read by special scanners, like a credit card reader or a door entry lock.
RFID has been around since World War II, and now it's getting an updated look as the newest trend for events. RFID chips can be used to hold an attendee's ticket info, metadata, social media accounts and even their credit card info. When placed inside a convenient wristband, it becomes the must-have accessory of the season.
Benefits of Using RFID Wristbands
Because RFID tech is so customizable, it's the perfect addition to any event, large or small. The benefits of adding RFID wristbands to your event include.
1. Better, More Targeted Marketing
RFID tech lets you have access to all of the data from past events, including transaction histories, session sign-ups and even which entry and exit points were used the most. You'll be able to better tailor future events to your attendees' wants and needs, increasing the likelihood you'll have repeat attendees in the process. This data can also be used to create targeted marketing campaigns to improve your ROI.
2. A Seamless Entry Experience
Long, slow entry lines are a bad first impression for any event. Reduce wait time with RFID wristbands, which can provide access to attendees with a simple swipe of their band against a reader. Photos can be linked to the wristbands for easy identification, so you won't have to worry about taking the time and staff to manually check IDs at the door.
3. Reduced Risk of Entry Fraud
RFID tech is nontransferable, secure and great at preventing fraud like unauthorized entry or passbacks. It also makes it easy for your attendees to protect themselves if the wristband is lost or stolen, since it can be deactivated as soon as it's reported missing. Plus, people are more likely to attend events where they feel like their sensitive data is going to stay protected.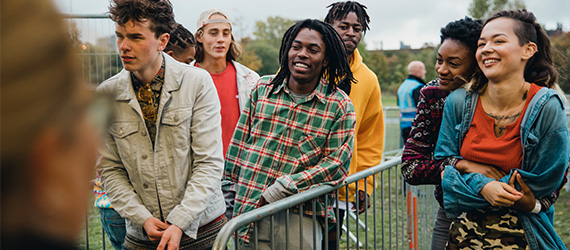 4. Event Exposure Through Social Media
Who doesn't love free marketing? RFID wristbands can be linked to attendees' social media accounts, allowing automatic photo tagging and location check-in as the attendee participates in the event. By setting up backdrops and other photo opportunities, you'll reap the benefits of increased visibility without having to drop a ton of money on campaigns.
5. Increased Attendee Purchases
Carrying around cash or credit cards is a drag. With RFID wristbands, event attendees can buy merchandise, food and beverages with a tap of their band — reducing wait time and increasing the likelihood of purchasing overall. When attendees don't have to wait ages for their purchases, they're happier and have a better experience than those stuck in long lines while hungry or thirsty. The ease of touchless tech also means that impulse purchases are more likely, which can increase your overall revenue by up to 87%.
6. Tighter Security
RFID wristbands can be tailored to allow different levels of access across an event, making it even easier to support VIP and press programs. You'll be able to effectively monitor who has access where, and reduce the chance of someone sneaking into a place they aren't allowed to go. You can also customize the wristbands for staff, speakers and performers, so they can have easy access to secure areas. Attendees will have a better time if they feel safe, and RFID tech is a great way to ensure that.
7. Better Staff Support
No matter the size of your event, the pressure on the staff is immense. RFID tech makes it easier for them to do their jobs, whether that's selling shirts, acting as security or monitoring the entry line. The tech streamlines processes and wait times, so you can have your team focused and able to perform their duties without feeling overwhelmed. A supported staff is a happy staff, which in turn means happy attendees.
8. More Sanitary Conditions
Cash and paper tickets touch a lot of hands, increasing the risk of a viral outbreak. The touchless tech in RFID wristbands will create a cleaner and safer environment for everyone, since the amount of physical touching required to enter or complete purchases is greatly reduced. This will help make the entire event more pleasant for everyone and help you avoid the headache of missing staff due to illness.
9. Elevated Branding and Aesthetics
The visual elements of an event go a long way in creating a good first impression. RFID wristbands can be printed with your event's logo or brand colors, making them a high-quality addition to your marketing. Attendees will be impressed with the appearance and more likely to share pictures highlighting their time at the event.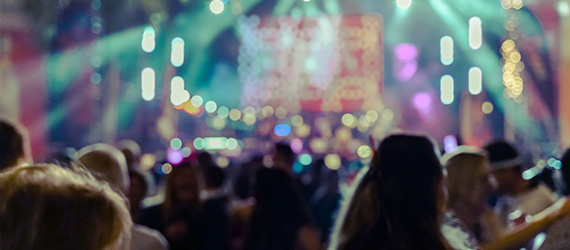 Make Your Event One to Talk About with RFID Technology
When it comes to creating an event, the customer experience is king. People who have a great time will talk about it, post online about it and recommend it to their friends. They'll also be much more likely to go again when the next event occurs. Conversely, someone who only remembers the long, frustrating lines or that time someone stole their ticket will never go again.
RFID technology is the best way to create a positive experience for your attendees that also benefits you and your staff. It ensures a safe, efficient and seamless experience for everyone involved. You can put the customer experience at the forefront of your planning in a way that will organically grow sales and make your marketing efforts effective and affordable, something that's especially important when you're looking for ways to maximize every dollar spent.
With busy schedules and tight budgets, people are choosier than ever before when it comes to attending events. Make yours a can't-miss date on their calendar with RFID technology.